Mike Jones was the only teacher who ever gave me detention.
It happened right before the start of Spanish class one day. Another student and I climbed out the classroom window to enjoy the first warm rays of spring sunshine after the long, grey months of Niskayuna winter. I don't remember the reason we earned detention for this – it was almost 20 years ago now, and the only part of the memory that remains is the bemused smile on Señor's face when he handed us the detention slips.
I was always scribbling terrible fiction in a notebook during Spanish class. Señor Jones never gave me detention for that, but he did constantly ask if he could read it. He kept asking years later when we would meet for sandwiches at Gershon's, and even asked again the day we ran into each other at the bookstore and he told me he was dying.
"NOW can I read what was in those notebooks?!" he asked with his signature giggle.
Twenty years after I left his classroom, while telling me he had cancer, Señor Jones was still after me to let him read my terrible fiction.
That's the kind of teacher Señor was. He didn't just want to teach you Spanish or German. He wanted to learn about you – all the aspects of you, including your terrible fiction!
Together with Kelly Linehan, Señor Jones chaperoned my first trip overseas. Back then (1999!) there was no Instagram or Facebook. To capture our nine days in Spain, all I had was one of my notebooks.
When I heard the news this week that my life-long friend Mike Jones had passed away, I dug out that notebook here in my apartment in Barcelona. Since I never did share my writing with him, I would like to share a few excerpts from my trip journal now. I hope he is looking over my shoulder while I write them here.
"I just had hot chocolate on the train with Mr. Jones…while we were drinking it, we had a bit of an International Foods moment, standing in the café car and looking out the window at the landscape. Mr. Jones asked me if it looked like I'd thought it would, and I said I hadn't had a very clear idea in my head – maybe I'd just imagined a big piece of land that said ESPAÑA."

Trip journal, en route from Madrid to Barcelona, February 1999
I love that I recorded this memory, because it shows the kind of questions Señor would ask us, and because it shows just how much I had to learn about the world outside my country. Thanks to Mr. Jones, I got to do just that.
He certainly tried to teach us everything he knew and never held anything back:
"On our way home, our flight was delayed and we were stuck in the Madrid airport for five hours. Mr. Jones was a few feet away from me teaching Mrs. Linehan how to play rummy. I could tell he was teaching something to her because he gets this teaching tone. Ha-ha – Mrs. Linehan beat him."

Trip journal, Philadelphia, February 1999
He was also one of those rare adults who would tell you the truth without any sugar-coating:
"During our layover, he said if he had to be with us longer than his pre-estimated amount of time, he would lock himself in a bathroom stall and cry."

Trip journal, Philadelphia, February 1999
We knew it was true, but we also knew it was only because he cared about each of us as if we were his own children, and the intensity of that was surely exhausting for the guy.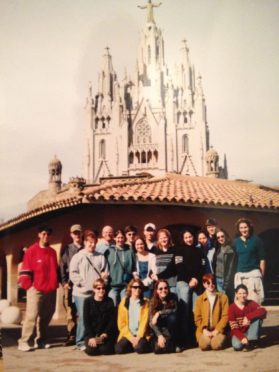 I saw the Sagrada Família for the first time on that trip. I see it every day now on my way home from work, but I'm so glad I wrote down this conversation with Señor during that first visit:
"When we were standing inside the unfinished temple, I put 50 pesetas into a donation box to support the construction. I don't know how Gaudí­ could have started a project like that knowing that he could never finish it…but then again, Jones said it best: Why start something if it's not going to outlive you?"

Trip journal, Barcelona, February 1999
Well, Jones, one thing that has outlived you is me. Like so many of your students, you started me on the path my life has taken, and like Gaudí, you did it knowing that you would never see the full realization of your project.
Thank you for dedicating your energy and your time to us — even on the days you gave us detention, or when we made you want to lock yourself in the bathroom and cry.
I hate the way you had to leave this life, too soon and with more than your fair share of pain. I don't know what comes next, so I will end with your own words from one of your annual messages to Niskayuna High School graduates:
"Please be extra careful in your travels. Stay safe at all times and don't poke any bears. You know that back home we're going to worry like crazy anyway. Be as smart as we know you are. We wish you the smoothest transition from your Adirondack chair to your favorite one in the library.
We love you and miss you already."

— Señor Jones, to the Niskayuna High School Class of 2016
---
This essay was originally posted on Facebook.